Something About 1%
Ended
1
Temporadas -
16
Episodios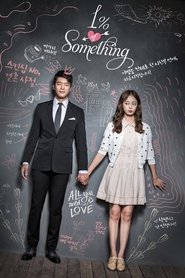 Something About 1%, Growing up in the middle of a wealthy family, Lee Jae In (Ha Seok Jin) had the best of everything. As an adult he was smart, handsome, had a good paying job, in short, it seemed he had everything. There was only one problem: he was an arrogant jerk.
Annoyed by his grandson's arrogance, Jae In's grandfather devised a plan to humiliate his arrogant grandson and perhaps even teach him a lesson. In order for him to inherit everything his grandfather was going to leave him, Jae In would have to accept an engagement contract with Kim Da Hyun (Jun So Min), an adorable sequel teacher with one of the sweetest personalities in the world.
Forced to accept their grandfather's terms, Jae In and Da Hyun have no choice but to endure the next few months as best they can. Complete strangers, with nothing in common and only a contract that unites them, things start badly. But time brings many changes, and even the hardest of hearts can soften when given a chance.
Based on the novel by Hyun Go Woon, «1% of Something» is a 2016 comic and romantic drama directed by Kang Cheol Woo.
Lee Jae-In possesses a good appearance, he is smart and comes from a wealthy family, but he is also arrogant. His grandfather orders Jae-In to enter into a 10 month contract engagement with a female school teacher that he has never met in his life. Lee Jae-In slowly falls in love with her.